First Edition: Gather/Journal V1.01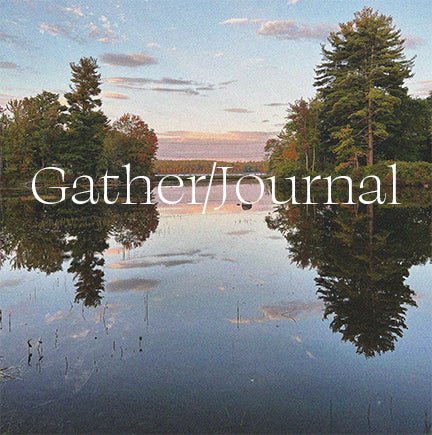 The best finds come from friends. Welcome to the first edition of my semi-regular list of timely things collected along the way.
From my desk to yours, here are the links, stories and styles of the first issue.
> A playlist : Listen to this playlist that I made, great for any day of the week, really. When fall hits I still feel pulled to make a playlist like it's the first week of junior year. I need that perfect soundtrack to inspire new possibilities. This mix is old and new stuff that's been on repeat in my studio recently. Hope it inspires you too.
> Autumn is here! Check in with what's in your closet. Do you have all of the French Classics that Alexa Chung learned about in 2019? "To be French, you just need to keep buying different iterations of the same thing" Bonne chance!
>> ON SUSTAINABILITY >> Shop second hand for those layers! It is the single most sustainable way to update your wardrobe. Here's a bangin' list of thrift & vintage stores if you're on the hunt in NYC. A heads up though: some dressing rooms are still closed , so you'll have to peacock in line for the mirror.
> This week we're watching the new "Scenes from a Marriage" (HBO) and following it up with the original one by Ingmar Bergman. His muse, Liv Ullman, has always been a maj- inspiration of mine. Here's an interview from earlier this year where she imparts some wisdom from her 82 years. And a photo of her in 1972 that is very sweet.
> M O O N * N E W S > The New Moon in Libra is today, October 6th! Get those intentions ready to plant. This is a big creative reset moon. Use the boost while mercury is in retrograde. Every bit of positive joojoo helps! Here's a deeper dive from the kind people at Bustle.
>> On Jewelry // Dive into the sparkly stuff at Gather. Today's topic: The power of orange aventurine >>
Aventurine is a type of quartz that glows in different shades of citrus from varying quantities of mica and hematite in its makeup. She's a big manifestor of new possibilities. Spiritually, the stone is used to quiet your mind and refreshing creativity during mediation. Physically, aventurine is brittle and hard, used for tools and weapons in the Omo Valley in Ethiopia as far back as 2.5 million years. This lil moon bead aventurine necklace strikes down what's standing in your way.
Thanks for reading & following along as Gather Brooklyn grows. I can't wait to get to know each other more! You're a great friend.
XO, Jules